WHO DAT?
Well the WHO DAT nation thoroughly explained to our Cardinals the answer to that question.
After this past Saturday's NFL Playoff game between the Arizona Cardinals and the New Orleans Saints I think I am going to drown my sorrows and reflect on the great year we did have. It hurts as a long time faithful fan to have it end like that. I am proud of what the boys in Red accomplished this season as we all should be.
If I can say the one thing I am most proud of is that we now expect them to go to the show every year. What a change from the days when we went nuts for a .500 season. Burrowed in mediocrity we now expect pure excellence every season.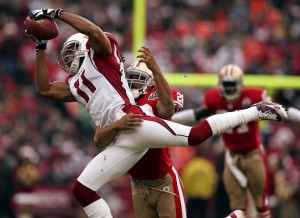 When the boys return home my brother Joe and I will be right here ready for them to take some time off and hit the "clubs in Scottsdale" to celebrate their great season. Oh yes, they will call and be smart by' taking a Party Bus in Scottsdale out on the town". We don't need any off season DUI's and you should be smart too. "Get a Limo or Party Bus in Phoenix" and don't take the chance that you get a DUI from old Sheriff Joe Arpaio.
Till next year RED SEA keep the faith pray that Kurt doesn't retire and
                               GO CARDS GO!!! THANK YOU!!!
Signing off,
Frankie