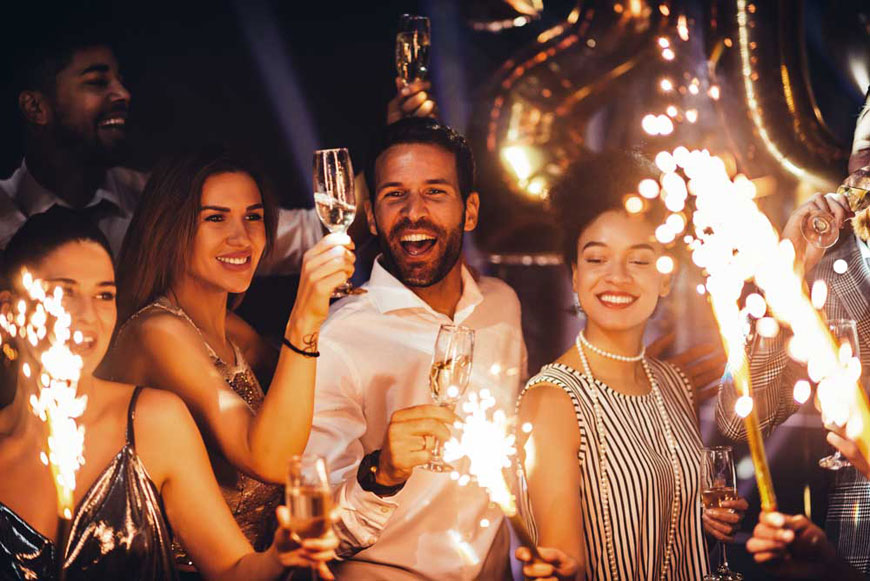 Platinum Rides offers premier limo and party bus rentals to get around Scottsdale in style. We offer our high-end fleet all year round, but New Year's Eve calls for extravagance. Wherever you decided to close out the decade, let Platinum Rides get you there with professional limo service or a party bus rental.
If you and your group are planning a night out in Scottdale on New Year's Eve, you need to check out our guide for the best events happening in the area. Platinum Rides has a vehicle for every occasion. Request a limousine for your black tie event or keep the fun going all night with a party bus.
Hotel Valley Ho's mid-century modern eatery is hosting a three-course meal to help you bring in the new year. Take care of transportation now and schedule your limousine service to get you to and from the party. Stick around after dinner for the countdown to 2020 – complete with dancing and live music.
The Montelucia is serving Spanish style meals to guests at this New Year's Eve dinner. Enjoy live entertainment, great food and a toast to usher in a new year.
This New Year's Eve dinner comes with views of the city that you can't get anywhere else! Situated on Camelback Mountain, Sanctuary is the perfect setting for your 2020 host. Plan ahead with Platinum Rides with either limousine or town car service to take you to and from the event.
Spend New Year's Eve at the Princess Resort in North Scottsdale. The event will provide entertainment and specialty cocktails to celebrate. Transportation to and from the resort can be scheduled seamlessly. All you have to do is have fun, we'll cover the rest!
This event is not one to be missed if you're in Scottsdale. Take a party bus from dinner to the resort and party through midnight with live DJs and bands. Enjoy drinks and a balloon drop at midnight! Come dressed to the nines for this semi-formal to black tie event.
Make sure you include Platinum Rides in your celebration this year. Rent a party bus or limo to get around Scottsdale on New Year's Eve. You can see our fleet of vehicles online. Contact us to check availability.