I have some advice for all of you out there. If it's not your Prom don't plan on renting a limo or party bus in the Phoenix area on a Saturday night for the months of April and May.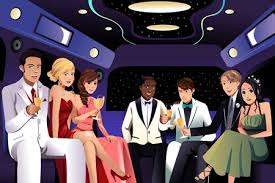 Every Saturday in those months are Prom dates and every High School student is looking to rent out everything in town! No I am not kidding.
If your planning a birthday or bachelor party move your party to Friday or Thursday. Your gonna pay half as much on those nights just by moving the day your reserving.
A common misconception is that we limo companies charge more just because it is Prom. That is not true. The prices skyrocket because most every Prom is set for a Saturday and Saturday's are the busiest days already. Typically selling our every weekend. Throwing thousands of new clients in the mix who have no choice in moving their date is what brings the demand and price up.
Most everything in April on Saturday is sold out already. There are a few vehicles still available but they're pricey still.
If it's your Prom and your still looking for something for the dance we still have a couple options for you. But you gotta act quickly before they're gone.
This is the busiest time of year for limo companies in Phoenix & Scottsdale. Once we hit the latter part of May it does slow down a bit but then there is Graduations. We love this time of year, we like it busy and we work hard for our clients.
Give me a call and tell me about your plans.
Do you have any good Prom stories?
Tell me about them.
Signing off,
Frankie