Prom Limos and Party Buses
Have you heard any PROM HORROR STORIES involving Limos or Party Buses in Arizona? I have!
Every year the calls start flyin in around this time all asking 1 question HOW MUCH?
I get it, you don't have a lot of cash for your prom. I know it's expensive the tickets, dress and tux, dinner, limo, etc I get it. But remember, your not going to the dance without tickets and your not going to the dance without a tux or dress and your not going the dance without "transportation to the prom".
These are all things you have to have, so you do have to budget yourself. Keep in mind, your tickets are not going to spontaneously combust and set your house on fire, the tux shop isn't gonna send you a red and gold tux from the 1960's but the cheapest "limo company" may: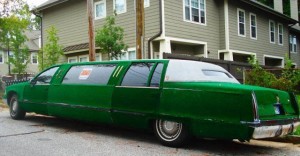 Not show up, or show up late!
The cheapest priced "limo" or "party bus" may show up and you wish it hadn't cause it's a 10 year old piece of ****!
The driver may treat you horribly and ruin your prom!
Get the picture? The cheapest prom limo story usually ends badly.
To cut to the chase, the "cheapest limo" or "party bus" may just look the part, the cheapest!
Ask questions about the company like how long they have been in business, are they involved in any local or national associations, what type of insurance do they carry, what year is the "limo or party bus" I am renting.
I would suggest going down to the companies office and look at the vehicle your going to rent. Talk to the owners and bring your parents with you let them get a feel for the company.
Another suggestion is don't wait to book your prom limo or party bus. You may just wait yourself out of a "great limo" or "limo bus" after you went through all that investigations and due diligence and then you'll have to settle for a lesser company and vehicle. That would negate all of your efforts cause you'll be forced to take what's left from a company you had already passed on.
The biggest mistake people make when booking a limo or party bus is waiting until they have collected all the money up front. I can tell you from experience in planning events for guests for almost 10 years, you will not have everybody's money until the day of the event or very close to it! There will not be anything left worth renting the week of your prom. Parents I know that you don't want to put up your credit card until you are guaranteed being paid back by the kids however I guarantee your kids will be renting whatever prom limo or party bus was picked over and left over and you will pay dearly for it. My rule of thumb for parents has been to secure at least half the kids, reserve the vehicle and get your kids crackin collecting the rest of the money! Once you book the "prom limo" or "party bus" they can now focus all that energy into collecting money.
These are all just suggestions and you can take it all with a grain of salt but every year I get those calls on prom dates begging me to send something to pick up a group because the "limo" or "party bus" never showed up or it broke down. I feel for those kids but then again they got a "great limo deal" right?
Rates are higher for the prom season because it is our busy season. "Rates for limos" and "party buses" can range from $75.00 per hour to $400.00 with a 6 hour minimum. Be prepared, call around then go out and investigate. Make a calculated decision and move forward with your reservation and planning. Don't be the one calling me and begging me for a ride on your prom night please.
Give us a call we'd love to talk to you about your plans and help you decide on a limo or party bus rental.
We are going to do a great job for you.
Signing off,
Frankie